PERCY HECTOR PITMAN 1871-1961
An hydraulic engineer who put Bosbury in the engineering spotlight.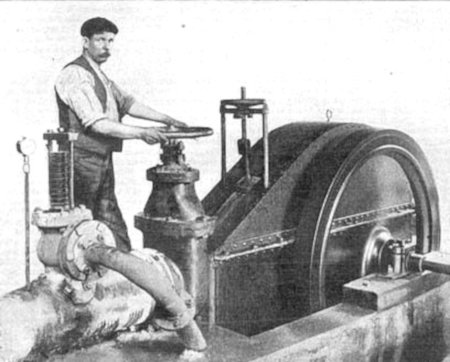 Most likely this is Percy with his 1905 turbine.
Percy Pitman was born in Prestwich in Lancashire but his family moved to Bosbury where they lived at 'The Firs'. He had a brother and five sisters, two of whom were married in Bosbury church.
He studied mechanical engineering and started in business but by 1894 at the age of 23 he had already been declared bankrupt. However he continued and specialised in the manufacture of water turbines based on the Pelton Wheel design first patented in the United States in 1880 by Lester Pelton. One of the earliest English manufacturers, Percy designed a new pattern of variable discharge nozzle and later, in 1926, applied for and was granted a US patent for a needle valve and flow deflector which controlled the inflow to the turbine wheel.
Percy may have had parts manufactured in the area. There is the Cambrian Foundry in Newtown, Montgomery which at the time made buckets for Pelton wheels. This is a 42" wheel design.
He moved from Bosbury to Cropthorne near Pershore in 1907 where his father died soon after. In later years Percy was based in London. By 1911 he was married with two young daughters and proudly recorded his Occupation on the census sheet, "Hydraulic Engineer and designer of water wheels". By 1915 he was a Member of the Institute of Mechanical Engineers. Percy Pitman died at Wood Green, Middlesex, in 1961.
Tangible reminders of his work are the wheel at the Science Museum in London labelled "Encased Pelton wheel, the 'Hector' water motor No. 2, with stop valve and driving pulley, manufactured by Percy Pitman, Bosbury and Ledbury, Herefordshire, England, 1903" and these two examples found locally.
Sources: The Engineering Magazine PELTON WHEEL WITH ADJUSTABLE NOZZLE FOR THE GLYN SLATE COMPANY. October 13th 1905
42IN. PELTON WATER-WHEEL June 2nd 1905.

Research information courtesy of Bill Cave, 2018.